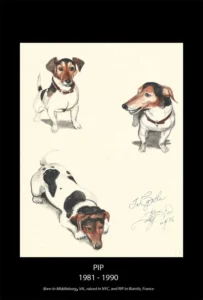 My Sister [Cynthia] just discovered this beautiful painting of her ubiquitous dog, Pip, made by Lady Bird Strickland!
Pip was a great dog…He made it into the New York Times, the East Hampton Star, Channel 5, the Tiffany catalog, the Long Island Railroad, etc.
I once almost gave the poor thing mouth-to-mouth CPR because he choked on a lamb's rib (that he had stolen…). My second son, at 9 months, bit his ear. Pip, as gentlemanly as he could be, hit back…the forehead…, but it was a tender bite, just reminding the toddler that he had gone too far.
Pip died a romantic poet's death in what I thought were the north of Spain's ocean cliffs, but, in truth, was Biarritz, France.
What I soon would discover is that there was a previous Pip, who shared my sister's Pip's indomitable courage and incredible personality: More