Local Business Spotlight: Diolun Designs | Jupiter Dream Life – January 22, 2022
Name of Business:
Diolun Designs LLC
Name of Owner:
Cynthia Dillon
Business Location:
Jennifer Garrigues Inc. boutique in Palm Beach, Florida, and online at www.diolundesigns.com
What the Business Does:
Diolun Designs LLC. oversees the production, manufacture, distribution and sale of "sculpted jewelry and accessories" created by American designer Cynthia Dillon. Jewelry in Sterling Silver (and/ or 18KT Gold, by Special Order); and a collection of Silk Shawls – all original designs by Cynthia Dillon.
How the Business Got Started:
Cynthia Dillon has been involved in the design, manufacture and marketing of jewelry and accessories since 1980, (first working alongside Elsa Peretti, Tiffany & Co.'s foremost designer, from 1980-1988) and on her own, internationally and in the USA, from 1989 – present
present. Diolun Designs LLC, based in Florida, was established in June 2019 for the launching of her jewelry and accessories line, on December 6, 2019, at Jennifer Garrigues Inc. in Palm Beach and online at www.diolundesigns.com
Business Niche or Specialty:
High end Jewelry/Accessories designs. Our customer is ageless, genderless; someone who likes jewelry/accessories inspired in nature, art and anything that is beautiful, striking, different, whimsical and… pleasing to the eye.
What Sets the Business Apart:
We like to work closely with our customers and buyers. For us, communication and availability, one-on-one, is of the utmost importance. We are engaged in every aspect of the business, from manufacturing to marketing and advertising, as "Cynthia is involved in every facet of the creation of her composition, from its original concept to its final execution.'
Ideal Clients:
Our ideal client is the person who would enjoy owning or buying as a gift, an originally designed piece of jewelry, (bracelet, earrings, necklace, pendant, ring, and/or object); and knowing its first model was hand carved (in wax) and finished by hand … something imperfectly perfect.
Contact Information – Business Phone/Address:
800-395-3206
Cynthia's Cell: 202-250-1359
Email: cdillon@diolundesigns.com
P.O. Box 504, Palm Beach, FL 33480
Websites:
www.diolundesigns.com and www.cynthiadillon.com
---
---
Cynthia Dillon has worked with international jewelers in America, Europe and the Far East.

Cynthia Dillon has created and designed many exclusive collections over years and some of her clients have included the Fundaciόn Colecciόn Museo Thyssen-Bornemisza, Madrid; the Kunsthistorisches Museum, Vienna; the Castle Prague, Prague; and a corporate clientele that included The Coca – Cola Company in USA and Europe, Peugeot, Sun Microsystems, Johnson & Johnson and others… Most recently, in 2018, two of her Jewelry Pins were presented as gifts to a former US Secretary of State through the organization Friends of the Czech Republic.
Cynthia Dillon began her career in the jewelry industry working alongside Elsa Peretti, Tiffany & Co.'s foremost designer.
Cynthia became President of Kuma Enterprises, the company owned by Elsa Peretti, in 1983. The company was contractually retained by Tiffany & Co., from 1982-1988, to assist in the implementation of the licensing agreement between Peretti and Tiffany, and oversaw the production and manufacturing of Peretti designs in Spain, Italy, and the Far East.
Cynthia Dillon was involved in aspects of Manufacturing, Design and Public Relations. She was responsible for the execution of the design of the rock crystal perfume bottle bearing the designer's name and appearing in the 1981-1982 Tiffany Catalogue. (That bottle is displayed at the British Museum in London!)- See below.
and see end of page: Copy of dedicated leather-bound 1982 Tiffany Catalog & Rock Crystal bottle inscribed: To Cinzia…1982…
Cynthia Dillon was born in New York and has lived in the USA, New York and Washington, DC.; Argentina, Buenos Aires; Japan, Tokyo; Spain, Madrid; Poland, Warsaw and has visited, over the years, a few countries in between, and as exotic as Iraq, (Kurdistan), Erbil…in 2016…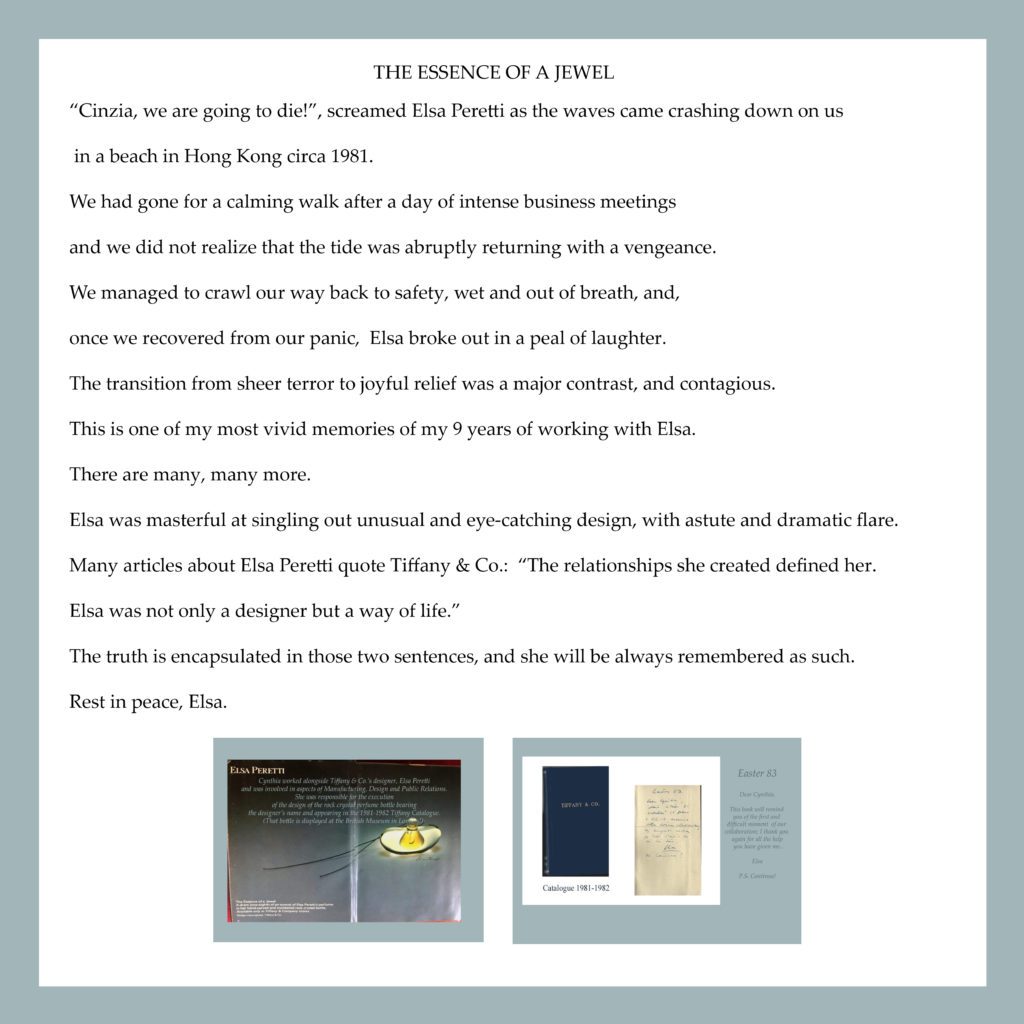 Cynthia Dillon's 18 year experience behind a jeweler's bench enables her to carve and/ or sculpt her own pieces of jewelry. She discovered at 26 years of age, in 1982, that she had a keen eye for "proportion," when she oversaw the completion of the rock crystal perfume bottle, designed by Elsa Peretti, and carved by Mr. Lam in Mr. Fong's factory in Hong Kong, and which graced that year's Blue Book (Tiffany & Co. catalog, ) and is today at the British Museum…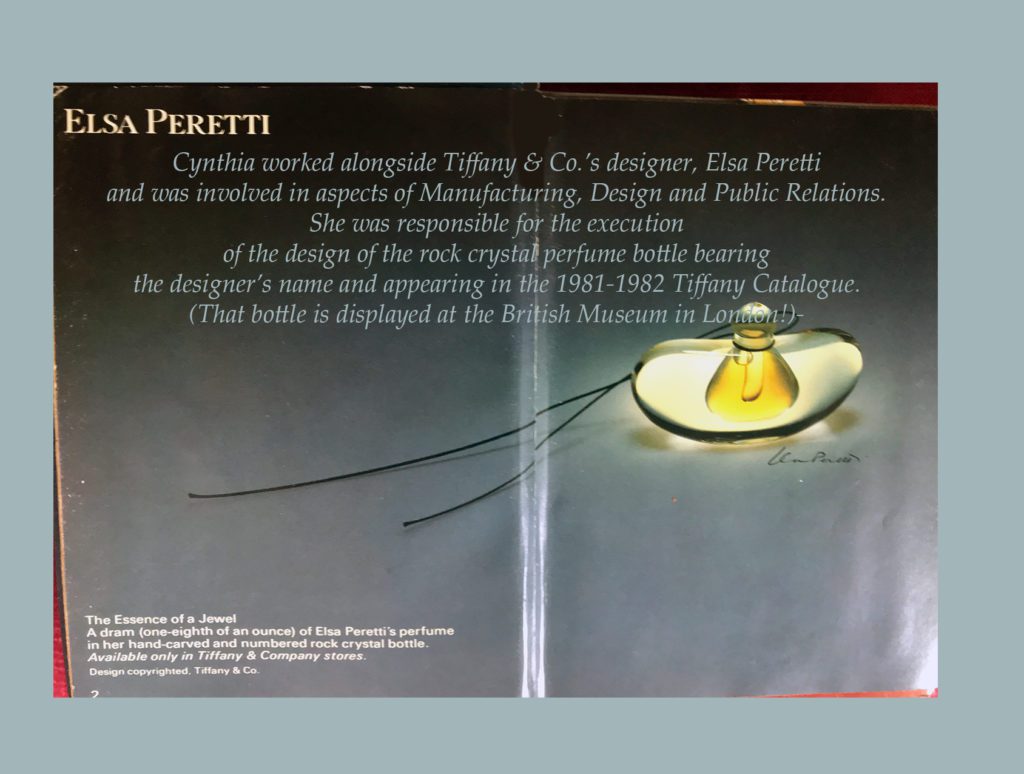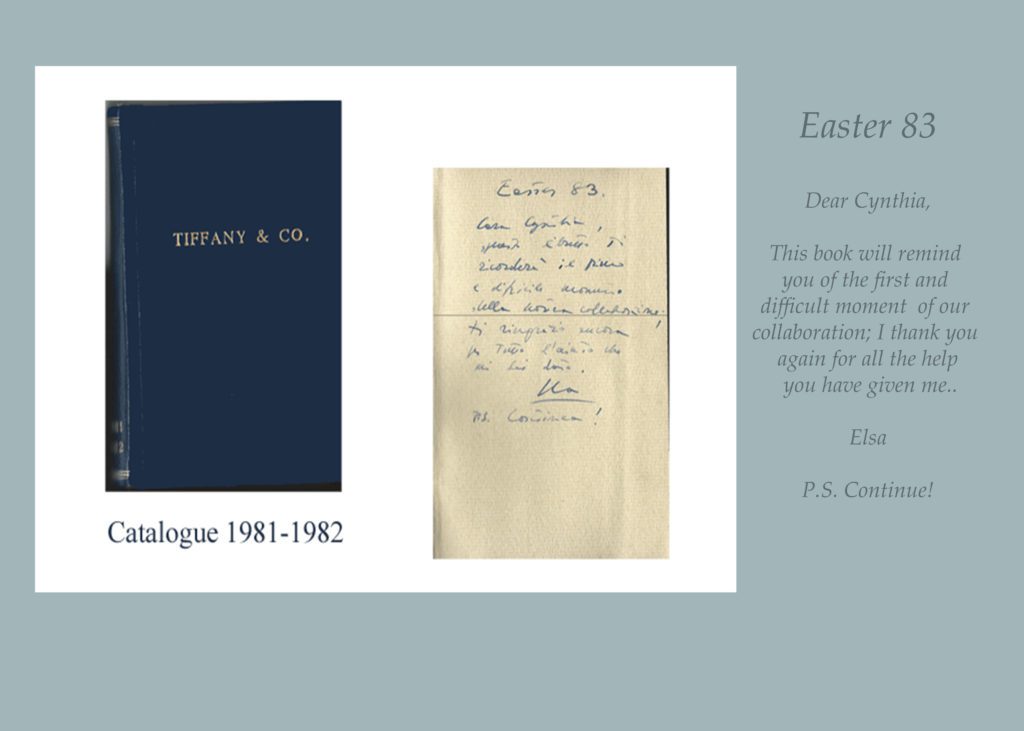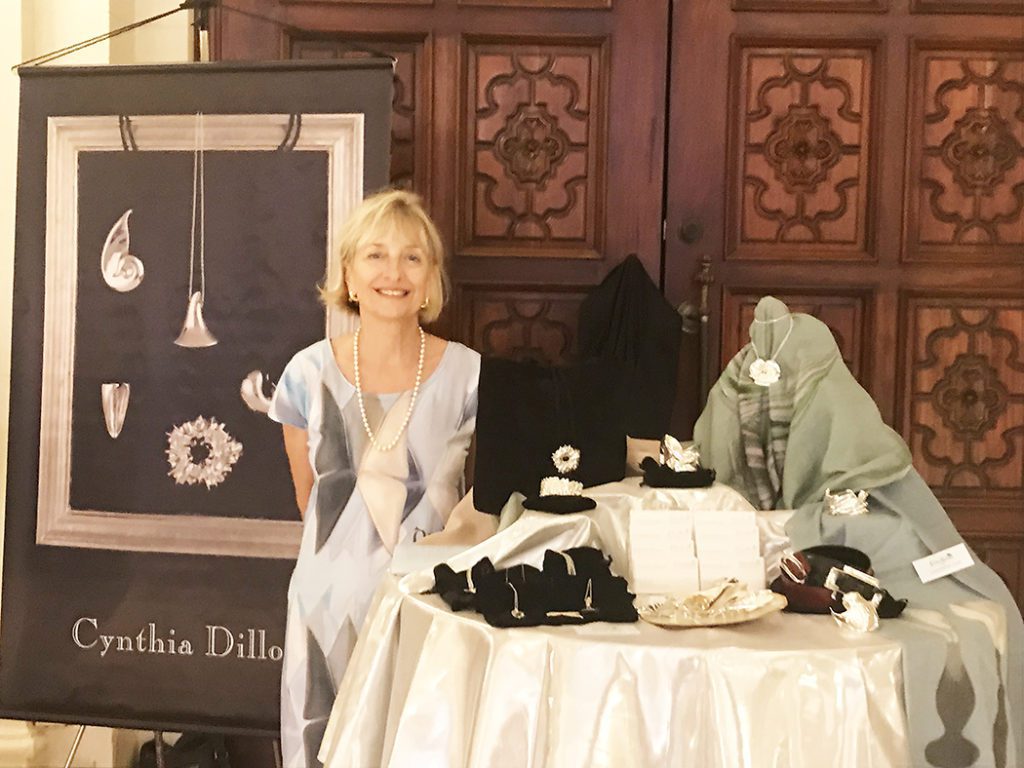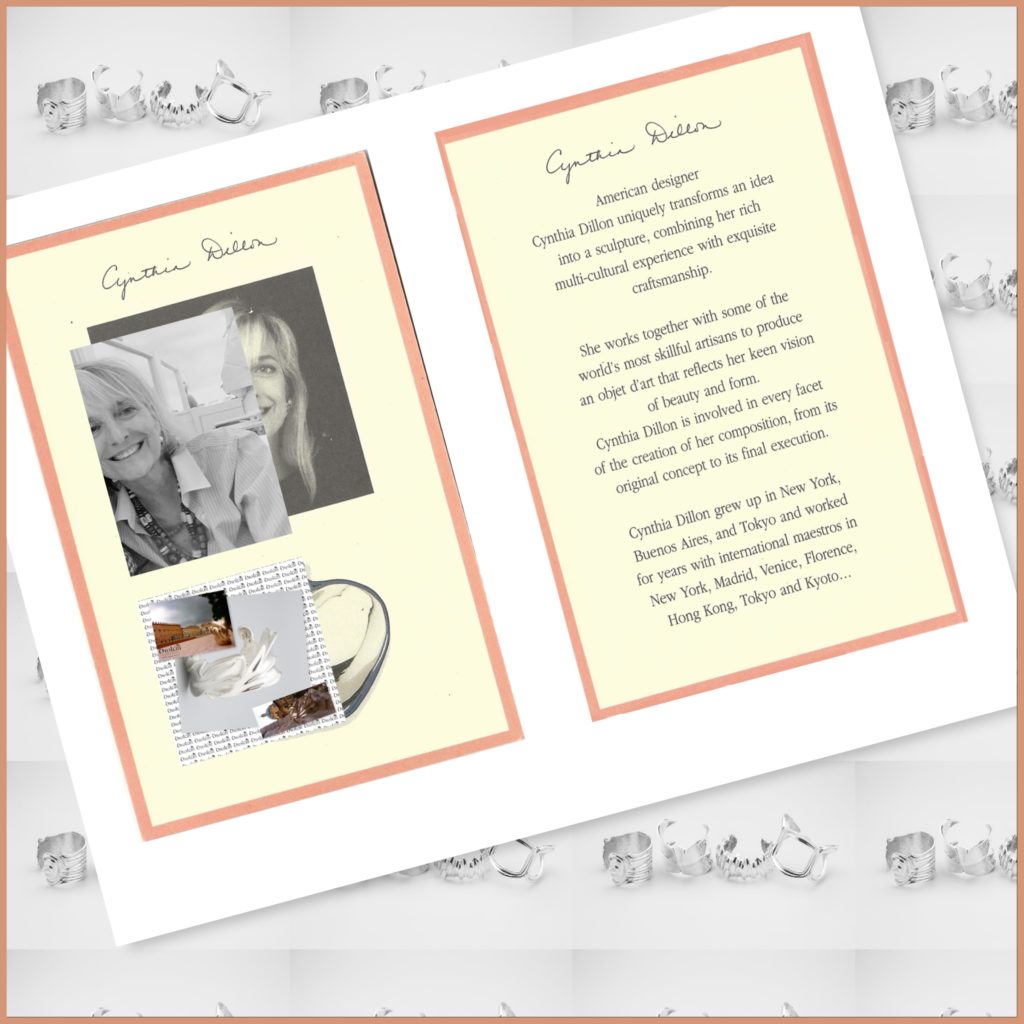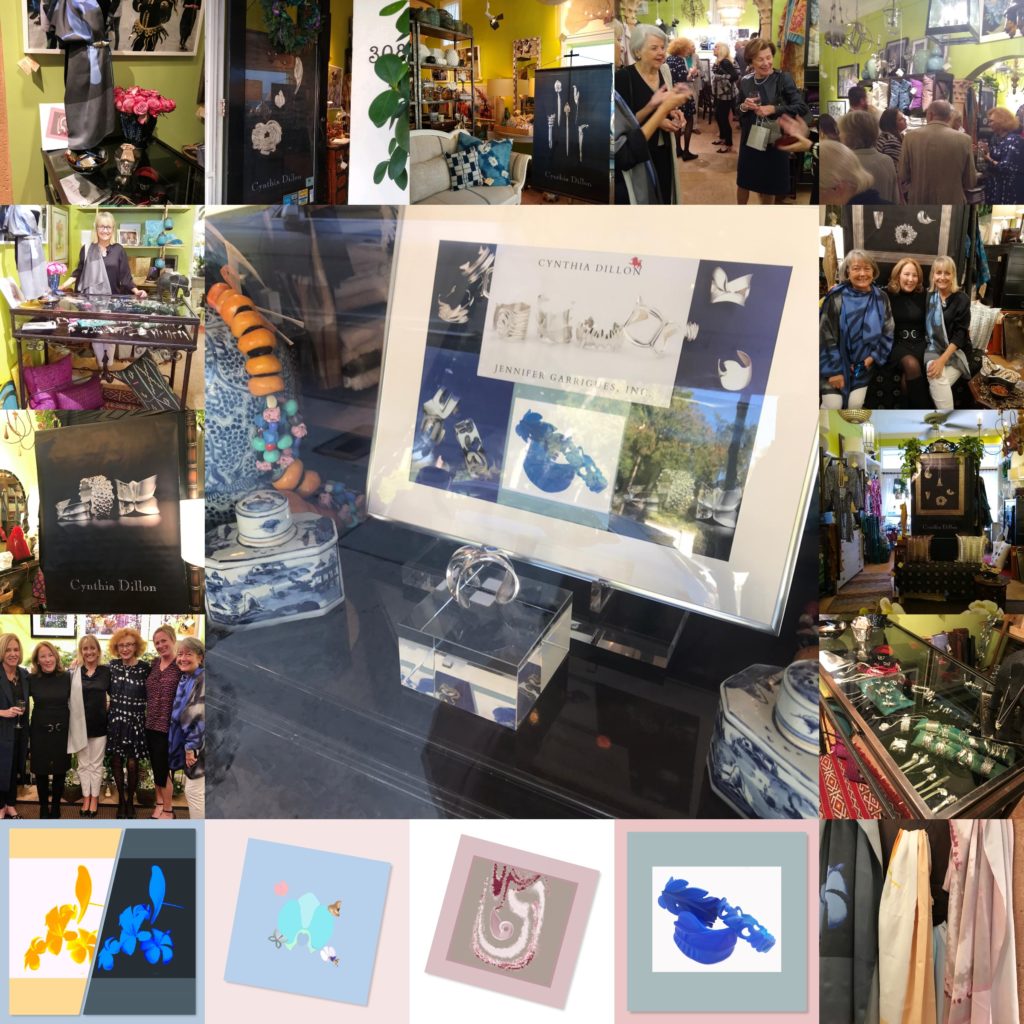 On Friday, December 6th, 2019 we were at Jennifer Garrigues Interior Design store in Palm Beach. In this beautiful store you can see and purchase Cynthia Dillon's unique collection of handmade jewelry. Cynthia uniquely transforms an idea into a sculpture and/or design, combining her rich multicultural experience with exquisite craftsmanship. A collection of #Bracelets, #Buckles, #Earrings, #Pendants, #Rings and #LetterOpeners in #SterlingSilver plus sumptuous #Shawls in #Silk, #Cashmere etc.